Frequently Asked Questions

ONE-OF-A-KIND ITEMS & LIMITED EDITIONS  
Here you will find one-of-a-kind items and jewelry in very limited quantities.
Feel free to come back frequently to consult our novelties, future collections will vary according to time and your possible request.
MATERIALS
The jewelry sold here are "fashion" ( imitation ) jewelry, so it is not real goldsmithing !
Cabochons and Stones :
The cabochons used here are - for the most part - either Swarovski crystals or colored glass.
Occasionally, it can be a different material ( mother-of-pearl, abalone, shell ). In this case, this specificity will be clearly stated in the description of the item.

Cameos :
The cameos used for these jewels are not authentic cameos but fine resin imitations. Realistic, full of details, these cameos are faithful reproductions that will not disappoint you.
Beads and Faux-Pearls :
The faceted beads are made of colored glass and faux-pearls in pearly resin (or sometimes waxed glass).
Stampings, Chains and Jewelry Findings :
The stampings, chains and findings used for these jewels are mostly brass, sometimes treated by jewelry bath to give them a silvery aspect (or a bronze aspect for some other jewels). It is therefore not real silver or other precious metals.
PRECAUTIONS OF USE
We remind you that you should not wash with these objects, do not put them in contact with water, do not store them in a damp place. This can only accelerate the oxidation and deterioration of your jewelry.
The frequent and repeated contact with perfumes or toilet water (alcohol) can also degrade the varnish and the aspect of your jewels.
Avoid shocks, be delicate, store your jewelry in a dry and temperate place.
They are resistant objects but nevertheless fragile if they are not handled with care and precaution.
We cannot be held responsible for any inappropriate use you may make of these jewels.

RISKS OF ALLERGY
( are concerned the persons sensitive to any other material than gold or silver )
In this specific case, we can unfortunately only advise against the purchase and use of these jewels.
Because although a large part of our supplies are nickel free, the causes of allergies are so multiple and inherent to each person that we would not want to take risk of selling you an item that would not suit you.
METHODS OF PAYMENT for International orders 
The shop accepts the following payments :

1°) By credit card via PAYPAL :
PAYPAL is an interface for electronic payment by credit card. Simple, free of charge for buyers, bank information is encrypted and completely secure. Your payment will be credited immediately, allowing your order to be sent just as quickly.
2°) By bank transfer :
We are not responsible for any charges related to this method of payment that may be charged by your bank.
Please consult your own bank first to obtain the necessary information.
IMPORTANT : All payments must be received within a maximum of 7 days after validation of your order on our website.
After this timed, unpaid orders will be automatically cancelled.
SHIPPING COSTS for International orders
Shipping costs are calculated in proportion to the weight of your purchases. Please note that we will ONLY charge you the shipping costs and nothing more ! We do not charge any extra charge for the packaging and/or packing of your order, which remains at our expense.




FREE DELIVERY Don't forget that Worldwide DELIVERY is FREE for all orders over 50 euros !
SHIPPING for International orders 
All your shipments are provided with tracking information, allowing you to follow your delivery directly online.
Once your order shipped at the post office, we will quickly provide the tracking number of your package.

Orders are usually dispatched within 48 hours of receipt of your payment - except during weekends and public holidays.
PACKAGING
All your items are packaged in small coloured organza pouches, already ready to be offered !
We also take care to pack your orders with resistant material : bubble wrap / polystyrene chips / cardboard boxes so that your purchases won't be damaged during transport.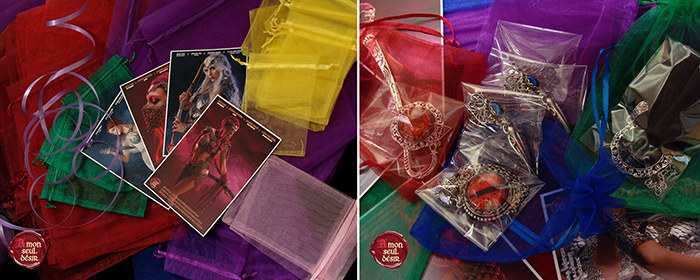 RETURN AND REFUND
You have a right of withdrawal of 7 working days from the day of reception of your order.
Withdrawal which includes the following conditions:
1°) Inform us of your request and the reason for the return.
2°) The package will have to be sent back at your personal expense by the same type of shipment as when it was sent (with tracking).
3°) The items must be in PERFECT condition: complete and intact in their original packaging.

If these conditions are well respected, you will then have a refund of the same amount as your initial purchase (excluding shipping costs of course). Please note that jewelry made especially for a custom order cannot be returned or refunded.

PRIVACY
All information and personal data collected on the site are necessary for billing and delivery of your purchases but remain strictly confidential.
In accordance with French law, you have the right to access, modify and delete your personal data.
To do so, simply make a request by e-mail  by clicking HERE
DO YOU SELL THE JEWELRY SEEN IN YOUR PHOTOSHOOTS ?
Eh no ... because the jewels you have seen in the gallery "Photoshoots & Collaborations" are not for sale. They are unique pieces that required long hours of work - sometimes without counting the purchase of expensive supplies - that's why they are not intended to be sold or reproduced ... However, believe that when we will have found a way to produce these pieces in several copies and - above all - at lower cost for our customers, you will be the first informed ! Thank for your understanding.

A MON SEUL DÉSIR, BUT WHAT DOES THAT MEAN ?
It is the name of one of the six tapestries of the "The Lady and the Unicorn" set preserved at the Cluny Museum in Paris.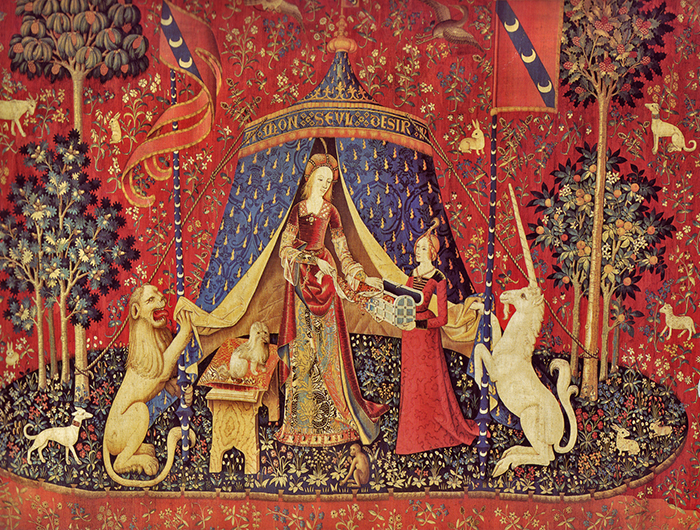 You can see the inscription A MON SEUL DÉSIR at the top of the tent in yellow letters
This set of six tapestries represents an allegory of the five senses ( sight, touch, taste, hearing and smell ), plus A MON SEUL DÉSIR whose exact meaning - still mysterious - is subject to many interpretations ... some even say that it could be the sixth sense...
If you wish to know more about "The Lady and the Unicorn", you can read the dedicated Wikipedia page HERE