Once upon a time, A MON SEUL DÉSIR, a little French online shopping site, specialized in one-of-a-kind and very limited editions jewelry. Elven, fairy, medieval, gothic, steampunk inspired accessories ( and much more ... )
Originally founded in 2008, we proposed varied jewels presented with fancy medieval illuminations and antique parchments. For those who still remember, at this time, our home page looked like this :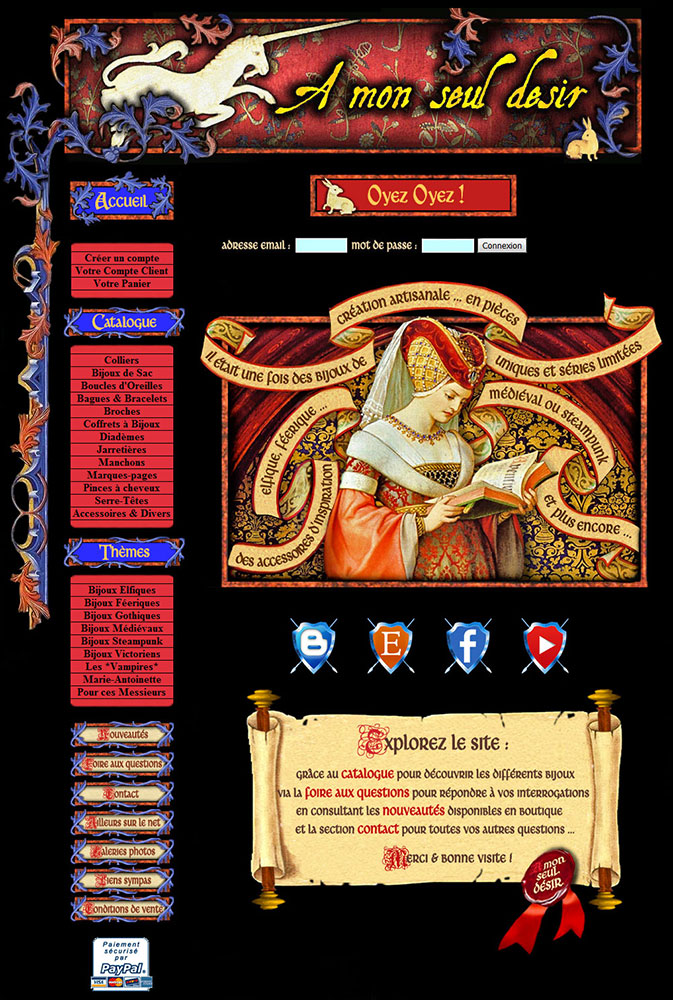 ... and was not even yet available in English !
But to remain fashionable after this last decade and adapt to new technology, the store had to begin its metamorphosis and reinvent itself. That's why, we are delighted to welcome you in this "brand new" website, whose new design - more sober and refined - is now compatible with your mobiles, smartphones and tablets.
Nevertheless, our vocation has not changed as it's always to offer you unusual and original jewelry !
As true lovers of fantastic, fairytale and fantasy with (as who would say) "solid" references :)


Not exhaustive artworks that impacted our childhood until today ...
These are the influences that have nourished our imaginary and allow us to offer you now these creations of which inspiration continues to be in the current trend of movies, books and TV series that rival of medieval plots, epic tales and fantasy stories sprinkled with a pinch of magic (for our greatest happiness of course !)
So wait no more and let yourself be transported to the realm of myths and legends ...